Pick Up & Delivery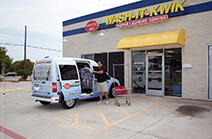 We have been doing pickup and delivery for over 10 years and have recently added an online Pickup and Delivery software powered by WashClub Trak.
Now our customers have an easy way to schedule a pickup online and have a real time tracking of their laundry while it is in transit. We know how important your time is and we can help with three easy steps.
Three Easy Steps
Step 1

Place your order on our easy to use website WashItKwik.com from your computer, tablet, or mobile device. Here you can customize your order, schedule your pickup, delivery time, and leave any special instructions. Customers can leave their laundry on the front porch and when our driver is on the way you will receive a text when they are 30 minutes out, and when the order is actually picked up.


Step 2

We do your laundry just like you want it done. We are located in a college town where over 50,000 college students live and work so more than likely it is a young college student, working their way through school, who is doing your order. These young entrepreneurs are the reason for our success and their exuberance and zest for for life part of the magic at Wash It Kwik. Your order is logged in, and tracked all the way through the process to ensure that everything is done just right. We use a low scent detergent and Snuggle fabric softener so your order is fresh and clean. All collared shirts and pants are hung and everything else is shrink wrapped or folded neatly and returned in your laundry basket or a Wash It Kwik laundry bag.


Step 3

The delivery process is similar to the pickup process. You will receive an email or text about 30 minutes or less before the driver arrives. They will leave it on your front porch or make other arrangements if the weather is inclement. Your fresh and clean laundry will be waiting for you when you arrive home. Our Wash and Fold service is a true time and life saver according to our thousands of customers.