Commercial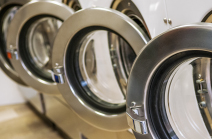 Wash-it-Kwik picks up and delivers laundry to businesses in and around the Dallas-Fort Worth area, and our success is because of our one or two day turn-around time.
We service many commercial customers in the Dallas-Fort Worth area. If you are looking for an operator who can deliver your fresh and clean laundry to the right location at a reasonable price, look no further. Our staff is trained and certified on OSHA standards as well as BBP.
Industries Serviced
Hospitals
Medical Clinics
Health Clubs
Yoga Studios
Massage Therapists
Churches
Summer Camps
Wedding Venues
Colleges & Universities
and Many More!